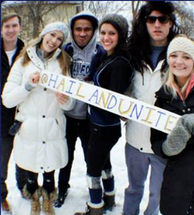 Hail & Unite is a student-led movement aiming to energize Michigan fans globally by producing a pump-up anthem featuring Grammy award-winning artists and University of Michigan talent. The venture will generate various opportunities for Michigan students, while aligning their interests with the athletic department and organizations across campus. Funds for Hail & Unite will be sourced through crowdfunding - which will allow fellow Wolverines to work together to organically drive this movement.
News
No events have been listed for this group. If you're in this group and would like to add an event, go to the update profile form!
Video & Media
There is no media posted at the moment. Check again soon!