Who is Luther Burbank?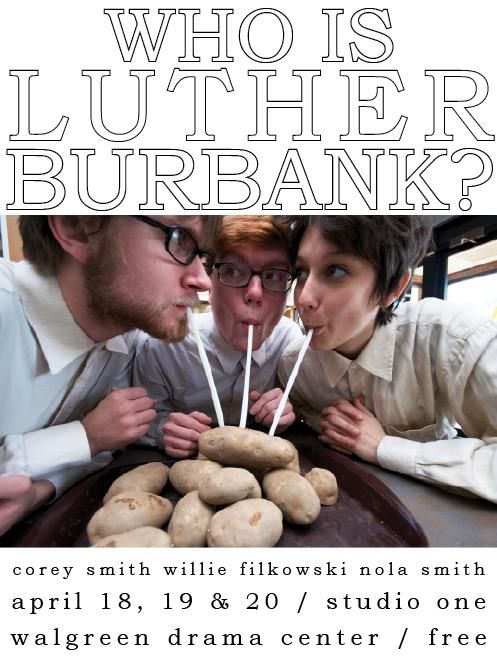 WHO IS LUTHER BURBANK?– a new piece in eighteen parts. Three students from a variety of arts related disciplines have teamed up to create an original work of experimental theater. Willie Filkowski, an Interarts Performance major, Corey Smith, a composition major, and Nola Smith, a dancer major, have designed an extracurricular, innovative performance involving a variety of curious media: "dancing, text, video, original music, potatoes, prizes, costume changes, a LOT of dirt." Inspired by a 1914 found text, Our Wonder World Vol. X: The Quiz Book, the collaborative event will entertain and puzzle, but ultimately answer the questions "Who is Luther Burbank?"
Presented with support from Basement Arts and Arts at Michigan, "WILB?" will run Thursday April 18-Saturday April 20. Performances are FREE and begin at 7 pm each night, with an additional late show at 11 pm on Friday the 19th. The show will be held in the Walgreen Drama Center on North Campus. See you there!