ART OUTTA TOWN goes to ARTPRIZE
Art Outta Town is a program through Arts at Michigan that organizes trips for students to attend art happenings outside the city limits of Ann Arbor. This weekend, the destination is Grand Rapids for one of the country's largest art competitions: ArtPrize. This 'radically open competition and social experiment' features 1517 artist installations throughout the city. Unlike the Ann Arbor Art Fair, this festival utilizes pre-established spaces, like store fronts and window displays, such that the entire town transforms into an gallery. The goal of the giant display is to create both 'harmony and tension among disciplines and between mediums.' The grand prize for the winning artists is a large some of cash money. Finalists are determined both by a jury and by popular vote, which you can do via texting, so be sure to remember your favorites!
If you do find yourself at ArtPrize this weekend, there are a few important names and places to remember. The Prison Creative Arts Project is featuring three artists who are no longer incarcerated and are competitive members of the festival. On Saturday, September 29th there will be a meet n' greet with the artists at the Urban Institute for Contemporary Arts (2 West Fulton). At 2:30 pm, all are welcome to join the PCAP Art Walk to the Department of Corrections where their work is displayed. This is an incredibly celebratory moment for both PCAP and the artists who have submitted work. Their names, images of their pieces, and codes for the popular vote are as follows, so be sure to send a text!
Brian Wagner, 'Grist Mill at Sedona Arizona' 52712:
Clifford Wade, 'Ostracized' 52624: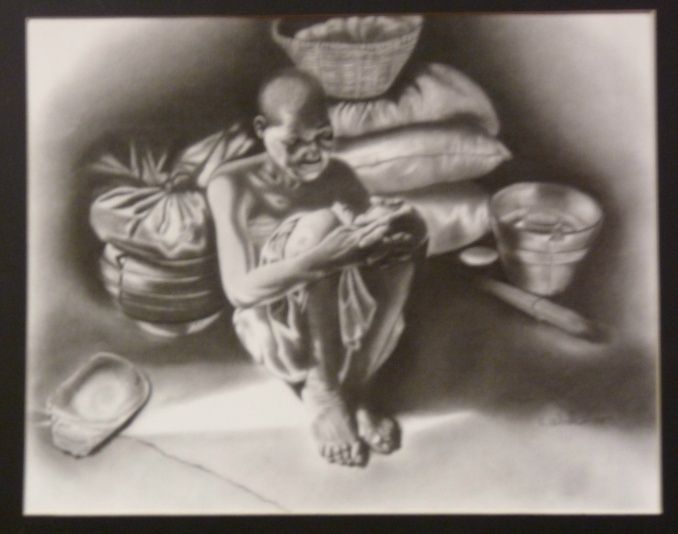 Fernando DeLezica, 'Forethought' 52487:
Image not featured
Unfortunately it is too late to sign up for this week's Art Outta Town. Luckily, however, ArtPrize runs until October 7th so you have a chance to see  it on your own. Follow the link here if you are interested in other Art Outta Town escapades, including next week's Dlectricity. Click here to sign up! See you at ArtPrize!