Performance Ark presents
Things Both Hushed and Grand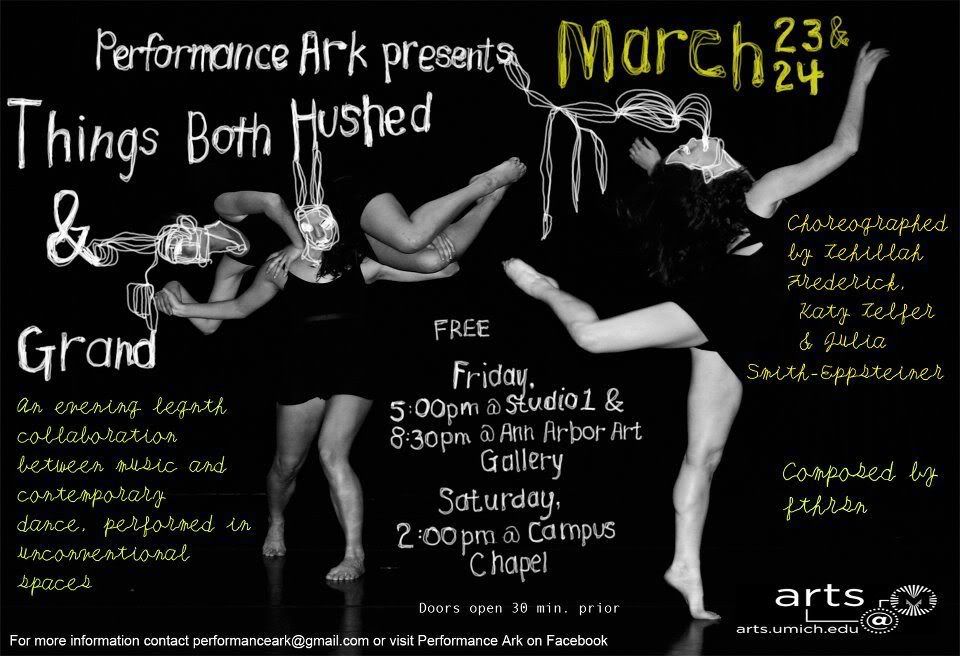 Performance Ark is a U of M "student-led hub for developing artists looking to collaborate." As part of a two day event, the group is producing its first ever evening length performance, titled Things Both Hushed and Grand. According to the artists, "this performance applies 'dance party colloquialisms and tailored contemporary technique to a lo-fi bedroom pop sound to investigate the courage it takes to be "an absolute nobody."
The piece is choreographed by U of M Department of Dance students Tehillah Frederick, Julia Smith-Eppsteiner and Katy Telfer. Dancers include Tehillah Frederick, Edith Freyer, Allie Harris, Natalie Niergarth, Maddy Rager, Molly Ross, Julia Smith-Eppsteiner, Katy Telfer & Cara Zonca, also students in the department. The show is paired with music by funky, up-and-coming local band Fthrsn (click here and here to get a sonic taste test).
I asked Julia Smith-Eppsteiner a few questions about her collaborative work and she gave me a hearty glimpse into her process:
Is this related to school at all? Yes and no. We have established ourselves as a student organization at the University, all the dancers we're using are in the dance department of SMT&D, as is the musician, and we are partially funded by Arts at Michigan mini-grant. But in a lot of ways it is independent from the school … Firstly, we met Macklin Underdown (fthrsn) at a music concert/dance party at Arbor Vitae. Secondly, we also are funded by independent donors via Kickstarter. And most importantly, we're doing this production on our own time. This isn't our BFA Senior Thesis, we're not getting any credit for it and aside from the assistance and encouragement from faculty members we approached, this project is independent of our departments.

How did you get the idea to make this performance happen? The three of us (Tehillah, Katy and I) have been interested in each other as collaborators/choreographers/movers for a long time and sort of joked about making a show together at the end of our freshman year (we're all juniors currently). Tehillah brought it up to us again at the end of this past summer and until we saw Mackie perform at a party in October we didn't get concretely going on anything. Once he was on board and making songs, we were pushed to make it actually happen and create deadlines for ourselves to generate movement phrases and keep us moving forward (deadlines such as Collage Concert and a Telluride Lecture Series we did titled Defining Movement). We've been seriously working on Things Both Hushed & Grand since November, us four responsible for everything on both the creative and business sides of the production.
Who did the posters? Jessica Ford, a BFA student in the Art and Design School, with a focus in painting. She's been a dream.
All performances are free of charge and open to the public. For more information on the show, check out the Performance Ark Facebook page. One of the exciting and novel things about this particular performance is that it will shift venues with each of the three iterations:
Friday, March 23rd
Studio 1 black box theatre in Walgreen Drama Center on North Campus
Doors are at 4:30pm, performance at 5 pm.
Friday, March 23rd
Ann Arbor Art Center, 117 W. Liberty St
Exhibition Gallery
Doors at 8pm, performance at 8:30
Saturday, March 24th
Campus Chapel, 1236 Washtenaw Ct.
Doors at 1:30pm, performance at 2pm