Mary Sibande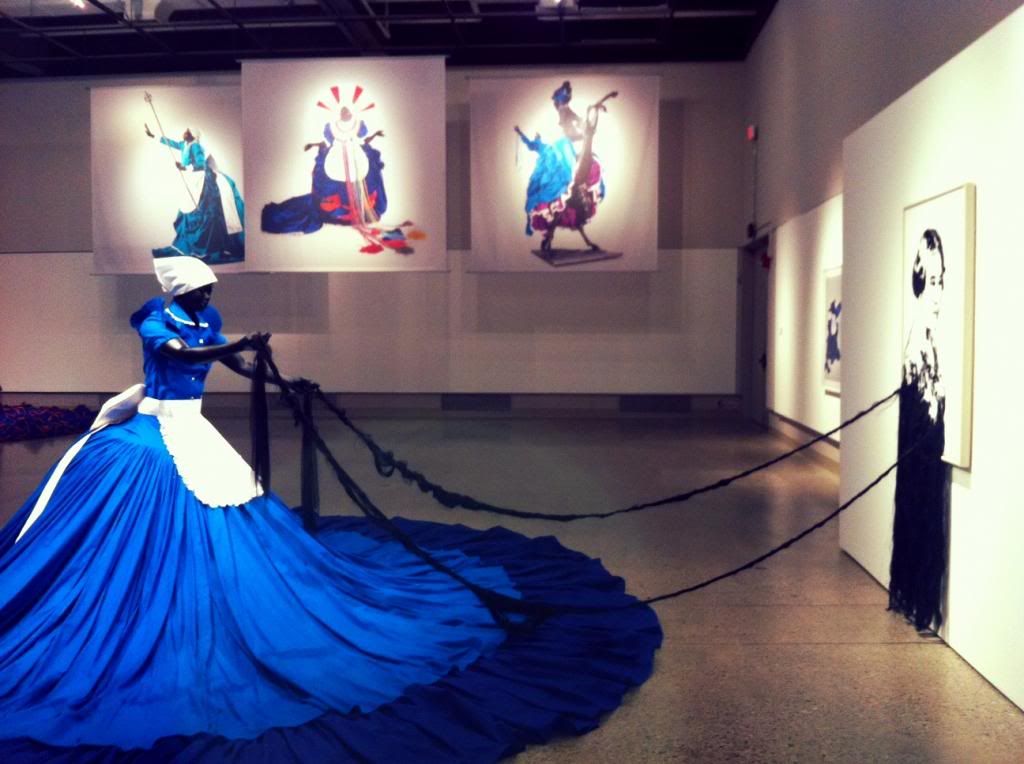 This semester, a number of venues across the entire campus, from The Slusser Gallery in the A&D Building on North Campus, to the  UMMA Commons, to the Institute for Humanities, to the DAAS Gallery in Angell Hall, to the Penny Stamps lecture series, are featuring the work of Mary Sibande. The South African artist is young, bright, and inventive. For a woman her age, she has already seen enormous success, exhibiting her work in Paris, at The Smithsonian, and more. I know how both young and bold she is because I had the pleasant opportunity of having coffee with her the other week (she is in the middle in the photo above).
The professor to whom I am a research assistant, Frieda Ekotto, is writing an article about Mary Sibande's work and invited me to join her for the interview. We met at Amer's on State Street and sat near the window, talking about the processes of the artist's creations from start to finish. To illustrate some of her main points, Mary popped open her computer and started showing us photos she had snapped in her studio. I felt like I was accessing an inside look at the personal snapshots of Mary Sibande's work. Her images sell for thousands in museums, yet there they were- simple jpegs on her PC.
We discussed the sculpture work that is currently on exhibit at U of M. Sibande has created an almost infamous character called "Sophie." This larger-than-life mannequin is made of wax and acrylic. The fluorescent dresses she dons are also creations of Sibande's. Not only is this artist a sculptor and a photographer, she is also a seamstress, fashion designer, story teller, and painter. When I asked how she identifies as an artist,  she responded that she gives no title to her trade lest she limit her capacities to the practice of one particular medium.
In the photo above, which I took in the gallery on North Campus, "Sophie" is weaving tangled black thread into an image of a woman's face. Who is this woman, you might ask? It is Madame CJ Walker, the woman behind the invention of hair straightening products used in the 1950's by many women of African decent. This product revolutionized an American culture and she is both a heralded and controversial figure. The relationship between the figure of the weaver Sophie and that of Madame CJ Walker leads the viewer to ponder implications of race, gender, class, culture, self presentation, and more themes provoked by this piece.
Besides this one, Sibande's exhibit features another of fascinating pieces. Be sure to take a look at Mary Sibande's exquisitely original work. Even if you aren't lucky enough to have coffee with her, you have numerous opportunities to become absorbed in her art this semester on campus. Enjoy!