Little Oblivions
Matador (2021)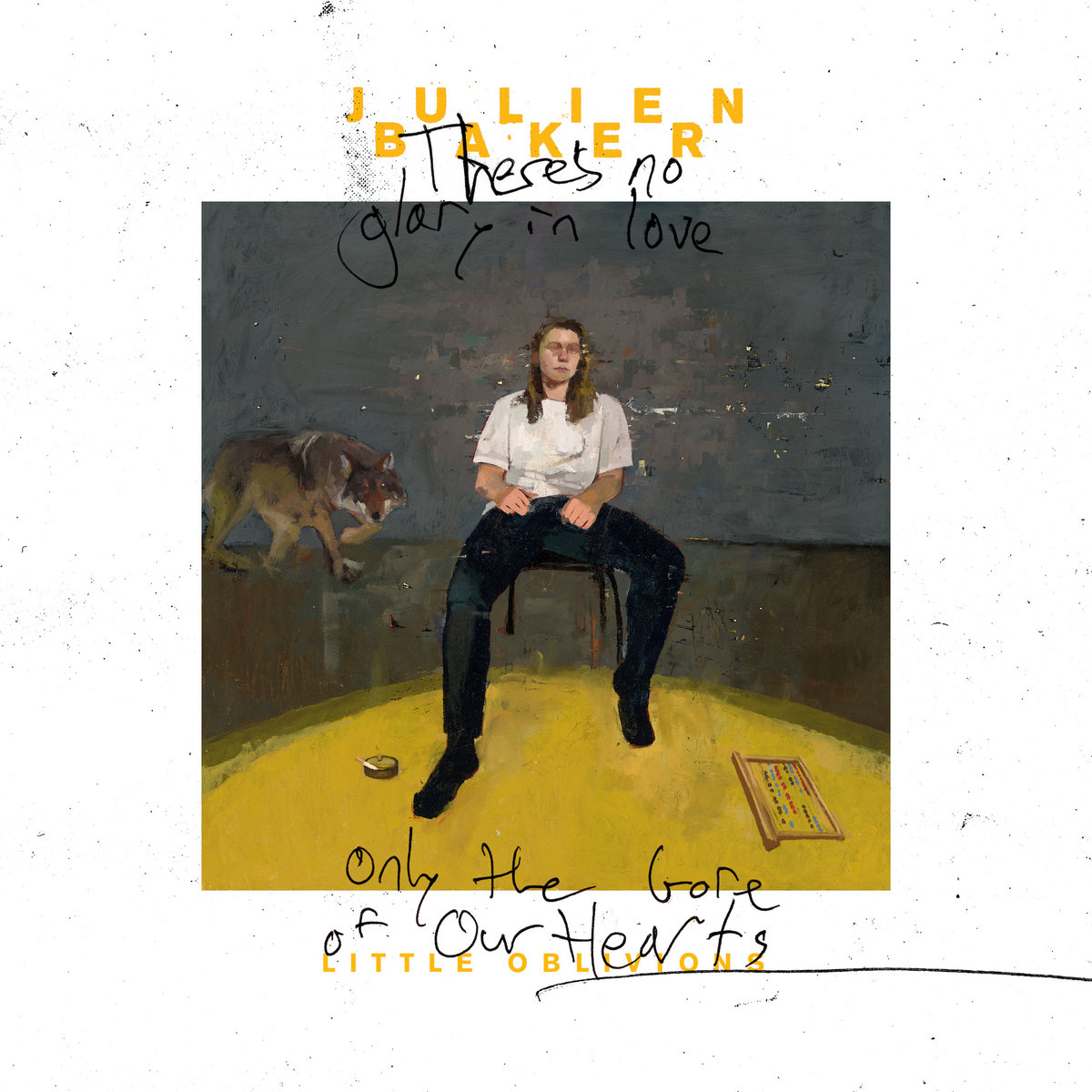 Julien Baker has always been somewhat of a paradox. She's an openly queer woman who also happens to be Christian and from the South, specifically Tennessee. She writes simple, beautiful songs about complex topics like human nature and addiction. It seems to work for her, though, which is especially true on this new record, her third following two well-received albums and an EP with former tourmates Lucy Dacus and Phoebe Bridgers as the indie supergroup boygenius. I found her 2015 debut Sprained Ankle and 2017 follow-up Turn Out the Lights to be enjoyably raw, devastating listens, but I always wanted her to expand her sound from the simple guitar-and-vocals approach she's known for.
Little Oblivions serves as a full reinvention of Baker's sound; it's still her own, but presented in a much bolder, expansive package. This is largely due to Baker's talents as a multi-instrumentalist: in addition to producing it, she plays nearly every instrument on the album, including guitar, bass, drums, piano, mandolin, banjo, and more. Simply put, it sounds massive, as if all the emotions contained in her lyrics have finally found an equivalent in the music itself. This evolution is immediately clear on the opener, "Hardline", which, frankly, is one of the best songs she's ever written. I'd even say it's an early contender for song of the year. The song opens with harsh, blaring organ chords, an unexpected move that works incredibly well. Like much of Baker's work, the song is an emotional powerhouse, but this one truly feels like it, using atmosphere and dynamics in a way her other tracks just didn't explore. The drums are hard-hitting, the synths and guitars are bittersweet and heavy, and Baker's vocals are better than ever. The lyrics are even more devastating than usual; one line I keep coming back to for its bluntness is when she asks, "Would you hit me this hard if I were a boy?". It's as good of an intro one could ask for.
From this point on, the album is consistently dense and troubled. It sticks fairly closely to the lush indie rock sound presented on the aforementioned opener, but that isn't necessarily a bad thing, because for Baker, it's all pretty new territory. Early album highlight "Relative Fiction" is about as groovy as a Julien Baker song could sound, all tight drums and light melodies, though it still holds onto her trademark introspection and self-deprecation in the lyrics. A bit later, Bridgers and Dacus lend their vocals to "Favor", though it doesn't exactly sound like a boygenius song. It's actually a hazy, intoxicating ballad depicting the inherent drama and self-disparagement that comes when admitting guilt: "If I didn't have a mean bone in my body, I'd find some other way to cause you pain / I won't bother telling you I'm sorry for something that I'm gonna do again". Other personal favorites include the driving lead single "Faith Healer", as well as sparse piano ballad "Song in E", which provides a much-needed moment of calm on the album.
However, as much as I like it, I don't think this album is without its flaws. The main issue I have with it is I find the mix to be a bit smothering at times in its densely layered style. I think the record would benefit from giving all the different sounds some space and thus allowing it to have a vast, open sound. That isn't to say I think it sounds bad or is poorly produced; it's a gorgeous listening experience, albeit a bit disorienting. On a similar note, I would have liked there to be a greater focus on balance in terms of song intensity. There aren't many songs that allow the listener to just breathe for a second, which perhaps is intentional given the emotional content of the record. When listening to the album in preparation for this review, I found myself repeatedly coming back to those little moments of simplicity on the album: the acoustic arpeggios in the midsection of "Highlight Reel", the buildup of muted guitar and hushed vocals on "Heatwave", all of "Song in E". While I think Baker can definitely pull off the full-band sound, I admittedly miss the intimate nature of her earlier work. The bigger sound can take away from the raw power and beauty of her vocals and writing, though it is clear from the lyrics that she is no less vulnerable in her music.
All in all, Little Oblivions is a great record from a great artist. It's a huge artistic leap, and although I'd argue she hasn't completely mastered the larger sound, I believe it's definitely something she can and will master on future releases. The writing is better on some songs than others, but it's incredibly solid as a whole. It has a cohesive, enveloping sound throughout, like a night spent lying in bed, dissociating in the dark. Her ability to write such vulnerable, ruminative lyrics is a testament not only to her musicianship, but her devotion to near-constant self-examination and betterment as well. I honestly could have written a whole other post on her lyrics, and perhaps I will in the future. Most importantly, while I still love the uneasy nature of her previous work, she sounds confident as ever on this album, which I cannot help but admire. Everything here, from the lyrics to the melodies to the instrumental presentation, cements Julien Baker's status as one of the most honest, brilliant songwriters out there today. It's truly life-affirming stuff, and I highly recommend it.
~~~
Side note: I'll be posting a chart of the albums I've been listening to at the end of each month on here. Here's what I listened to in February! What have you been listening to?