Françoise Mouly, current art director for the New Yorker, shares the story of how she became who she was today.  In an effort to make this a divergence from the wikipedia page, I will try my best to add as much of her charm to this as possible.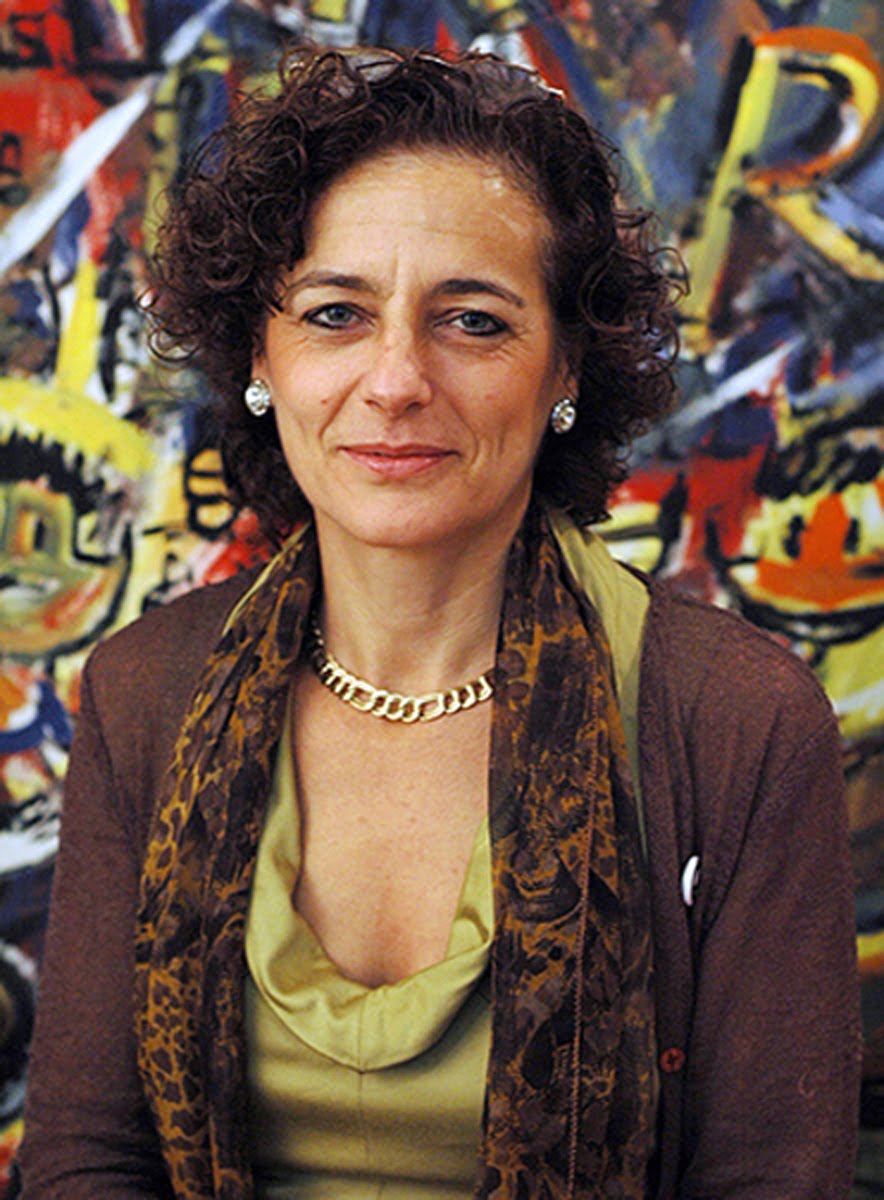 Mouly began her presentation at the beginning — with baby pictures.  First was a picture of herself in Catholic school next to a picture of her husband, Art Spiegelman, as a kid.  Mouly was born in Paris and growing up decided to pursue a degree in architecture.  But midway through her schooling she realized that a future in architecture did not appeal to her.  Alumni would come to the school and talk about their experiences and how much they remembered fondly the days of school better than their days at work.  She was not fond of this disconnect between the idealized structure put forth by the architect, who does not always have a direct hand in the realization of the work, and therefore who subject to change it was.
So for a change of pace, Françoise moved from Paris to New York.  Making the move does not sound like it would be an easy task – with job, housing, etc to consider – but when Françoise talked about it, she made it sound like it was a fond memory in her past, whether or not it was a difficult one.  It turned out to be a great turning point in her life, as she expected.  She came in contact with many different artists and filmmakers, and most specifically a comic artist named Art Speigelman.  Françoise would spend her time reading Art's comics in MAD magazine to help learn English.  She invested a lot of time in studying the way comics were made and even took classes in print-making and bought her own press for home.  Along with developing a strong bond with Art, she also found a strong bond to the comics he made.  She loved the means of reproduction involved in executing the final product that is the comic.  She fond greater control in the process in that it bridged the gap between what you design and what gets built.  It offered a lot more control over production than she felt architecture ever did.
One of her first jobs was working as a colorist for Marvel magazine, and also started her own business publishing maps and guides of SOHO and Tribeca.  At the time she was living with Art and his parents were very keen on the two of them getting married.  So, in order to appease their wishes, she and Art had a "taudry wedding," according to Françoise, which was really only done to make good with the in-laws.  Art and her decided to have another marriage ceremony in 1988, and that one was the real deal, she said.
In addition to meeting Art, she also started to take her printing press to another level.  She and Art founded RAW comics, an underground comic magazine.  Her and Art's goal was to provide a striking comic magazine that would hopefully garner more attention for adults and aid in the reviving of the adult comic readership, which at the time was suffering.  The magazine feature friends and contributors from America and Europe mostly, but from all over the world really.   Because she wanted to put a handmade element in every piece, so in one issue she and Art placed hand designed gum wrappers from the gum factory Art worked at into each issue.  In another issue, she inserted a small flexi disc into the back cover of a copy of one of Reagan's speeches.  This emphasis on doing things by hand makes it more thoughtful, Françoise believed.
The opportunity to work for the New Yorker came when Art was offered to do one of the covers himself.  A cover he suggested was considered too bold for the running style of the New Yorker, which had grown in recent years to feature landscapes and non-abrasive images.  The current editor reached out to Françoise, seeing the work she did with her comic magazine, and asked for her to assist in the cover design process.  Françoise knew what she wanted from comics – powerful images that made it hard to remember what you thought before having seen the images.  This is what the current New Yorker was lacking.  So she went through older covers from the 1940s and 50s issues of the New Yorker and used those as example for what a cover for the magazine should look like.  There was more story telling in those covers, and more of a human attitude in them, that was lacking in the current issues.
In 1993,  Mouly became art director of the New Yorker and also publisher of her new project, Toon Books, which specialized in hard cover comic books for young readers.  She lives a dream, and the way she talks about it is as if it were what happens to any other person in a lifetime.  Her humility and charm make her an exceptional story-teller and person.  In her final words, Françoise said the New Yorker magazine will not lose itself in the modern age because its' images have no time.  People take the images out of context of any time period and make them something accessible to many generations and future generations to come.